Woman Killed In Charleston Pedestrian Accident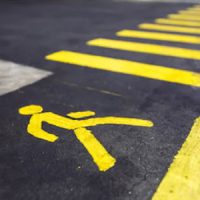 Being a pedestrian is dangerous, especially when the person is in a wheelchair. It can be hard for wheelchair users to cross a road when visibility is limited or they are not at a marked crosswalk.
Sadly, this was recently the case when a pedestrian was killed after she was hit by a vehicle on the evening of January 3 in downtown Charleston.
A car was traveling south on East Bay Street when it hit a woman in a wheelchair. The woman was hit near South Street, in a dark section of the roadway without a marked crosswalk.
The 58-year-old woman was taken to Medical University of South Carolina, where she later died. The driver remained at the accident scene and the crash remains under investigation by the Charleston Police Department.
Pedestrian/Vehicle Accidents in South Carolina
It's important to know your rights as a pedestrian in South Carolina. Drivers have a duty to keep a lookout, follow traffic rules and signals, and drive in a manner appropriate for the conditions.  Similarly, pedestrians need to be careful to ensure that their actions do not cause an accident.  This includes walking on sidewalks where possible and obeying traffic signals such as the "WALK" sign.  Additionally, pedestrians must use due care before stepping into a crosswalk.
Contact Us Today 
Sadly, pedestrians are common victims of accidents. These crashes are especially common in heavy traffic areas; during evening or twilight hours; or in unmarked or poorly marked crosswalks.  Driver inattention or intoxication can oftentimes mean these accidents can have catastrophic – and even fatal – outcomes.
Pedestrians are vulnerable. If you have been the victim of pedestrian/vehicle accident, seek legal help from the Columbia personal injury lawyers at Simmons Law Firm. We'll help you obtain compensation for your medical bills and other damages. To schedule a free consultation, call (803) 779-4600 or fill out the online form.
Source:
live5news.com/2023/01/04/coroner-ids-pedestrian-killed-downtown-charleston/