1 Killed In Rollover Crash In South Carolina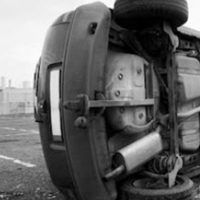 In a car accident, it's possible for a vehicle to roll over. Tragically, when rollover crashes occur, it's likely that the occupants – both the driver and passengers – will sustain serious, and sometimes  fatal, injuries.
Sadly, this recently happened in South Carolina. A man was killed when his vehicle went off the road and rolled over on the morning of February 5 in Greenwood County.
A 48-year-old man from Simpsonville was driving his sedan on S.C. 10. He was near the intersection with Greenwood Mills Farm Road when the vehicle ran off the right side of the road. The sedan crashed into an embankment, causing it to flip over. The man suffered from blunt force injuries and died at the accident scene.
No other vehicles were involved and nobody else was injured. At this time, the cause of the crash is unknown and still under investigation. So far, at least 58 people have died on roads in South Carolina in 2023.
What Causes Rollover Crashes?
Rollover accidents occur in several main situations. A vehicle may:
Drive over an object, such as a curb or uneven pavement, causing it to tip over.
Turn too quickly or sharply while speeding.
Travel down an embankment.
Get hit on the side by another vehicle.
In certain situations, driver error has been shown to be the cause of rollover accidents, including:
Drowsy driving can cause a driver to go off the road. The vehicle can then hit something or go down an embankment and roll over.
Distracted driving. A person who is not paying attention can easily go off the road and cause a rollover accident. Using a cell phone, eating, reading, talking to passengers, dealing with pets and children, and adjusting the radio station are common distractions.
A person who is under the influence of alcohol, drugs, and certain medications may become intoxicated or impaired, causing them to drive erratically.
Speeding can cause a vehicle to go off balance, especially when turning or going around a curve.
Oversteering/Overcorrection. To correct a mistake, drivers tend to oversteer, causing them to travel too far off the road and roll over.
Improperly loaded cargo. A vehicle that is improperly loaded or overloaded can cause a vehicle to go off balance. The vehicle may strike a curb or other object, which can cause it to roll over.
Lack of familiarity with the road. If a driver is not familiar with the road, they may misjudge a curve or turn, causing the vehicle to go off the road and roll over.
Contact Us Today
When driving, it's important to stay on the road, pay attention, and ensure the safety of your passengers.  If you or someone you love has been involved in a rollover accident, seek legal help today from a Columbia car accident lawyer at Simmons Law Firm. We have more than 30 years of experience successfully handling car accident cases. Schedule a free consultation with our office by calling (803) 779-4600 or filling out the online form.
Source:
thestate.com/news/traffic/article272138502.html