Bicyclist Killed In Hit And Run Crash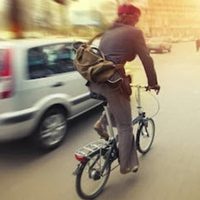 Bicycles are often found on the roadways. While they have the same rights as motor vehicles, many drivers don't feel that way. They may act aggressively around bicycles and even hit them and leave.
A bicyclist was recently killed in a hit and run accident in Lancaster. The fatal accident occurred on the morning of December 18 on Springdale Road.
A 59-year-old man was riding his bicycle on Springdale Road, near Summit Avenue when a vehicle hit him and then fled the accident scene. The bicyclist died at the crash site.
Police later located the vehicle from the crash. It was a 2001 Chevrolet pickup. The driver, a 30-year-old man from Lancaster, has been charged with multiple crimes, including reckless homicide, leaving the accident scene with death, and driving with a suspended license.
 Why Riding a Bike is Dangerous
Riding a bicycle can be a great form of exercise.  However, the fact is that bicyclists face many dangers on the roadways, including:
Parked vehicles. Bicycle riders often get hit by drivers opening their vehicle doors. This causes them to get knocked off their bikes.
Potholes can be bad enough for motorists but bicyclists often feel the effects even more. They may lose control or get ejected. That's why it's important to scan the road ahead.
Roundabouts are another common danger for bike riders. Motorists may emerge from a side road onto a roundabout without yielding to cyclists or a motorist may overtake a cyclist, turn off the roundabout, and leave insufficient room, causing a collision.
T-junctions. T-junctions are dangerous in two main ways. For instance, some accidents are caused by motorists merging onto main roads and colliding with cyclists. There are also many crashes caused by motorists who fail to yield when they turn across oncoming traffic.
Contact Us Today
 Bicyclists can often suffer catastrophic or fatal injuries as a result of collisions with cars on the road.  Because some drivers will fail to follow the rules of the road when it comes to cyclists, it is important to speak with an attorney immediately if you have been in an accident.
Need help getting compensation for your injuries? The Columbia bicycle accident lawyers at Simmons Law Firm can hold the driver or other party liable for your damages. Call our office at (803) 779-4600 or fill out the online form to schedule a free consultation.
Source:
wsoctv.com/news/local/driver-arrested-after-bicyclist-dies-hit-and-run-collision-lancaster-county/5YIAUCRSFNARRBDC7HSMJLLDXI/