Emotional Abuse In Nursing Homes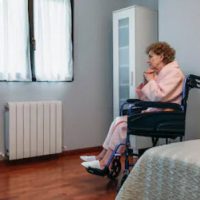 When you think of elder abuse, you may imagine someone hitting or slapping an older person. While this is a type of abuse, it's not the only one. Emotional, or psychological, abuse can be just as hurtful, especially when it involves a vulnerable adult.
Emotional abuse can occur when a caregiver says hurtful things to a resident, or otherwise takes action against the resident which falls below generally accepted standards. or . The abuse may be verbal or nonverbal in nature but the elderly patient will suffer from stress or emotional pain due to the abuse.  Anyone can be an abuser, including a nursing home staff member, another resident, or a volunteer.
While emotional abuse does not involve physical abuse, such as hitting or punching, it can still be hurtful. It can make a person feel embarrassed or humiliated and cause them to be fearful of others. The victim may develop anxiety and depression due to the abuse and his or her physical health may decline as well.
Types of Emotional Abuse
Emotional abuse can present itself in various forms, such as:
Humiliation or ridicule
Intimidation through yelling or threats
Insults and badmouthing
Blaming the resident for things they did not do
Ignoring the resident
Refusing to care for a resident's needs
Withholding meals and entertainment
Isolating the resident from family and friends
What Are the Symptoms?
It may be hard to tell if a loved one is being emotionally abused, since there are no bruises or other physical symptoms to look for. Victims are often afraid to speak up for fear of being abused even more. Here are some signs that your family member may be a victim of abuse;
Avoiding eye contact
Low self-esteem
Fear or hopelessness
Anxiety and depression
Sudden shyness and withdrawal
Wanting to hurt themselves
Changes in eating or sleeping habits
Isolation from loved ones
Not allowed to engage in social activities or favorite hobbies
Mood changes
What Happens Next?
If you find out your loved one has been a victim of nursing home abuse, you need to discuss the situation with the nursing home facility. If nothing is done and the abuse continues, you will need to keep your family member's safety in mind and consider moving them to another facility or reporting the abuse to the appropriate authorities.  Nursing homes, like any healthcare facility, are required to comply with state and federal regulations designed to ensure the safety of their patients.
You may wish to consider filing a lawsuit against the negligent nursing home. A lawyer can assess your case and help you obtain compensation for your loved one's emotional trauma and any related physical injuries.
You should also recognize the need to focus on helping your loved one feel better. Counseling can help them deal with anxiety, depression, fear, and other psychological issues they have developed due to emotional abuse. Medications can help your loved one relax and sleep better.
Contact Us Today
There are many types of abuse that an elderly person can face. Emotional abuse may not result in physical harm but can still be devastating.
Has your loved one been abused in a nursing home? If so, see how a compassionate Columbia nursing home abuse & neglect lawyer from Simmons Law Firm can assist you in holding the facility accountable and securing adequate compensation and justice for you and your loved ones. To schedule a free consultation, call (803) 779-4600 or fill out the online form.
Source:
nia.nih.gov/health/elder-abuse