Man Killed in Columbia Pedestrian Accident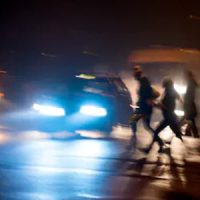 Late at night, drivers often have a hard time focusing on the road. It's dark, so visibility is reduced. Plus, the drivers may be tired or intoxicated. This can cause them to lose control or hit something in the road.
Unfortunately, pedestrians are often the ones affected. People walking in intersections may think they are protected and won't get hit by a car. They are wrong.
Recently, a fatal accident occurred at around midnight on October 21 in Columbia when a 19-year-old man was hit by a car at the intersection of Blossom and Bull Streets. The accident happened on the University of South Carolina college campus. The man died at the accident scene. He has been identified as a former baseball player at Gilbert High School in Gilbert.
The Richland County Coroner's Office and the Columbia Police Department are both investigating the crash. No details were released about the driver and whether or not they will face any charges.
Pedestrian Accidents at Night
There has been an increasing trend of pedestrians being killed in accidents. Most of these crashes are occurring at night. In fact, nearly 75% of all pedestrian accidents occur at night, primarily between 6 p.m. and midnight.
Pedestrians can suffer serious injuries in these accidents, some of them permanent. Treating these injuries can be extremely costly. Depending on the circumstances, a victim can obtain compensation for their medical bills, lost wages, pain and suffering, and permanent injuries if they are able to prove negligence by a third party.
While multiple factors may contribute to an accident, drivers remain responsible for safely operating their motor vehicles. Under South Carolina law, they also have a duty of care toward pedestrians.
Here are some factors that can contribute to a pedestrian accident:
Visibility can be an issue at night. Were there streetlights? Was the pedestrian easy to see?
In more than 30% of pedestrian accidents, impairment is a factor. Was the driver intoxicated due to alcohol or drugs? Was the driver using a cellphone to text while driving?
Did weather conditions affect the driver's ability to see the roadway or safely operate their vehicle? Was there ice, heavy rain, or snow? Was there fog or wind?
Traffic laws. Did the driver fail to stop at a traffic light or stop sign? Was the driver speeding or otherwise driving unsafely?
Contact Us Today
A motor vehicle accident involving a pedestrian can result in devastating consequences and, tragically, can often be fatal.  Drivers have a duty to look out for pedestrians and obey South Carolina traffic laws.  It is also important to remember that accident reports which find the pedestrian at fault can oftentimes be incomplete or fail to account for all of the contributing circumstances.  As a result, it is important to immediately consult an experienced attorney if you or your loved one have been injured in a pedestrian accident.
If you or a loved one has been injured or killed in a car accident, the Columbia pedestrian accident lawyers at Simmons Law Firm can help you obtain the justice you deserve. To schedule a consultation, fill out the online form or call (803) 779-4600.
Source:
wach.com/newsletter-daily/pedestrian-identified-in-fatal-late-night-collision-in-downtown-columbia