Nissan Rogue SUVs Recalled Due To Defective Keys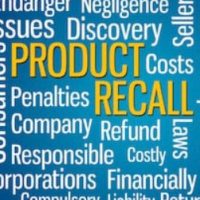 The products we use on a daily basis may actually be unsafe due to defects that are found after the products have been sold on the market. While some defects are minor, some are much more serious, especially when they affect automobiles.
A recent recall involves a defect that could cause an SUV to turn off while in motion, which can lead to a dangerous situation. A faulty key has been identified in various Nissan Rogue vehicles.
Nissan is recalling more than 712,000 SUVs in the United States due to their folding ignition key, also known as a jackknife or switchblade key.  Rogue SUVs with model years 2014-2020 and Rogue Sport SUVs with model years 2017-2022 are affected. The issue is that the folding key may fold while it is in the ignition of the vehicle. This can cause the driver to inadvertently turn off the vehicle while it is in motion. That could cause a sudden loss of engine power, power steering, and power brakes, making it harder for a driver to avoid a crash. If a crash does occur, the airbags also may not deploy, since the ignition would be turned off, making injuries even more severe.
Only vehicles with a physical ignition key are being recalled, so Nissan Rogue vehicles with a pushbutton start feature are not being recalled.
A fix is not yet available, but Nissan is working on a spacer that would be placed into the key to prevent it from folding. Until there is a solution in place, Nissan Rogue owners are warned not to attach any accessories to their key. They should only use the key while it is unfolded. The recall also affects approximately 100,000 vehicles in Canada, where the Rogue Sport is marketed as the Nissan Qashqai.
Common Auto Defects
Many parts of a car or its accessories can become defective, causing injuries, crashes, and fatalities. Besides keys, some other common defective parts include:
Air bags. Defective airbags may prematurely deploy or deploy with extreme force.
Seat belts. Seat belt defects include everything from a broken latch to malfunctioning tension detectors.
Door latches. Broken door latches can make it difficult to enter or exit a vehicle.
Cracked calipers, ABS system failure, defective parking or emergency brake, and leaky hydraulic lines are signs of defective brakes.
Misaligned suspensions can cause uneven tires. Signs of defective tires are excessive wear on the treads and underinflation.
Contact Us Today
Automotive defects are common issues. While some instances are minor, the possibility of your vehicle accidentally shutting off due to a defect is cause for concern.
If you have been harmed by a defective product, you need someone on your side who can help you fight the manufacturer. A Columbia products liability lawyer from Simmons Law Firm can help you get full and fair compensation for the damages you have suffered. Get started with a free consultation. Call (803) 779-4600 or fill out the online form.
Source:
consumerreports.org/cars/car-recalls-defects/nissan-rogue-rogue-sport-suvs-recalled-to-fix-defective-keys-a3323679387/