Jif Peanut Butter Recalled Due To Salmonella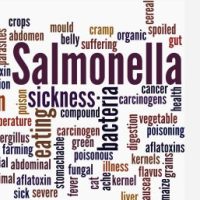 When we buy food from the grocery store, we expect that it will be safe for consumption. While most food products are safe until expiration dates, some are contaminated and can cause serious illness and even death if consumed. This happens often with meat, fruit, and vegetables.
Peanut butter can also get contaminated and lead to salmonella poisoning. This has been the case for Jif peanut butter, manufactured by The J.M. Smucker Co. The company issued a recall on May 20 for peanut butter products sold in the United States. Jars with lot codes 1274425 through 2140425 have possible salmonella contamination and should be thrown out. Lot code numbers can be found next to the best-if-used-by date on the products. More than 50 different Jif products have been recalled. Multiple varieties of peanut butters – including natural, creamy, crunchy, and reduced fat- are affected by the recall. So are the peanut butter "to-go" packs and the natural squeeze pouch.
Jif is sold at retailers nationwide. The salmonella outbreak has currently spread across 12 states: North Carolina, South Carolina, Virginia, Texas, New York, Illinois, Massachusetts, Arkansas, Georgia, Ohio, Washington, and Missouri. So far, there have been 14 confirmed reports of salmonella poisoning from Jif products. However, the Food and Drug Administration (FDA) believes the number is much higher. Two people have been hospitalized.
The first reported case of illness was on February 20. Most of those who became sick reportedly ate different types of Jif brand peanut butter before becoming sick with salmonella. The outbreak has been linked to a plant in Lexington, Kentucky.
Signs of Salmonella Poisoning
For the most part, salmonella causes an illness called salmonellosis. Symptoms may occur quickly (within six hours) or take a while to occur (up to several weeks) after infection. The illness may last 4-7 days, but some may experience symptoms for several weeks.
Some strains of salmonella can cause infection in the urine, blood, joints, bones, or the nervous system. There are cases in which it can cause severe disease.
Treatment is not always necessary. Most people recover from salmonella infection on their own within a week. Those with diarrhea should drink extra fluids.
Antibiotic treatment will be needed for certain groups of affected individuals, including:
Those with severe cases
Those with a weakened immune system, such as from HIV infection or cancer
Adults over 50 years of age who have chronic medical problems, such as heart disease
Infants under 12 months of age
Adults age 65 or older
Contact Us Today
We expect that the food we eat is safe and free of contamination, but that is not always the case. Poor manufacturing can lead to bacteria that can seriously harm consumers.
If you have been affected, seek legal help from the Columbia products liability lawyers at Simmons Law Firm. We can seek to hold the manufacturer strictly liable and assist you in getting the compensation you deserve. Schedule a free consultation by calling (803) 779-4600 or filling out the online form.
Sources:
foxbusiness.com/retail/jif-recall-peanut-butter-salmonella
nwaonline.com/news/2022/may/22/recall-issued-on-jif-peanut-butter-lincoln/?news-national