Sheriff's Deputy Killed in Truck Accident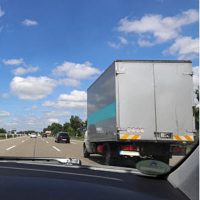 Law enforcement officials face a lot of dangers whether they are on or off duty. They can be shot at and stabbed. They can be assaulted. Like anyone else, they can also be victims of car accidents. They can be killed in these crashes.
Sadly, this was recently the case in South Carolina. A newly graduated sheriff's deputy lost his life in a truck accident. He was just 23 years old.
The man, who worked in southeast Richland County as a patrol deputy, died on the evening of September 29 after his vehicle was hit by a semi truck. The fatal accident occurred on Bluff Road, near Windy Drive, in Columbia.
The crash involved a Ford sedan that was traveling west and an eastbound Volvo semi truck with no trailer. The truck attempted to make a left turn onto Windy Drive when it was hit by the Ford.
The driver of the truck was injured and taken to a local hospital. The driver of the Ford, the sheriff's deputy, was killed in the crash. He was on duty at the time of the accident. His funeral will be announced at a later date.
The man was hired by the Richland County Sheriff's Department in 2022. In January 2023, he graduated from the South Carolina Criminal Justice Academy.
Dangers of Truck Accidents
Truck accidents are often deadly due to the large size of the vehicles. Semi trucks can weigh as much as 80,000 pounds. Plus, they can be dozens of feet long.
The most common issue, however, is driver error. This encompasses a variety of behaviors, including speeding, distracted driving, careless driving, and failure to yield the right of way. Impairment is also an issue. A truck driver or other driver could be impaired by not just alcohol and drugs, but also by fatigue. Being overly tired is a common issue for truck drivers. They often work long hours, and even though there are limitations in place by federal law, trucking companies often ignore these guidelines.
Unfortunately, fatigue is a common issue, with the average truck driver receiving just under five hours of sleep a night. The recommended amount is eight hours. A lack of sleep is also deadly.
When a driver is overly tired, the effect is about the same as being under the influence of alcohol, studies show. This means the risk of an accident is very high. Truck drivers who are overly tired should not be on the road.
Contact Us Today
Truck accidents can happen to anyone. Unfortunately, they are often deadly for the occupants of other vehicles.
The Columbia truck accidents lawyers at Simmons Law Firm understand the dangers involved with truck crashes. Contact us and we will help secure the compensation you need to get back on your feet and move on with your life. Schedule a free consultation by filling out the online form or calling (803) 779-4600.
Source:
wltx.com/article/news/local/bluff-road-fatal-accident/101-73df07c8-1b0a-4150-bebf-6dd4fb0f9119