Slips And Falls In The Workplace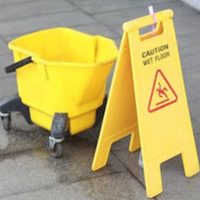 Slips and falls are common occurrences in homes, on sidewalks, in parking lots, and on stairs. They can also happen in the workplace. Grocery stores, restaurants, and construction sites are common places for these accidents to occur.
A lack of safety training and unsafe conditions can lead to serious injuries in the workplace. Slips and falls account for 15% of all accidents. A whooping 25,000 slip and fall accidents happen every day in the United States.
Slips and falls tend to happen in certain situations, such as:
Spills and other wet surfaces
Rain, ice, snow, and inclement weather
On tile, polished stone, and other slippery surfaces
Uneven walking surfaces
Broken surfaces
Poorly lit areas
Employees can get seriously injured in a slip and fall. Common injuries include head trauma, back and neck injuries, spinal cord injuries, broken bones, and paralysis. 
Inspection and Maintenance
Proper inspection and maintenance of floors and other areas are key to staying safe. For example, keep the following in mind:
Keep flooring surfaces well-maintained.
Keep walkways adequately lit.
Perform walkthroughs of the premises on a regular basis to assess the area for any issues.
Use signs to warn guests of hazards.
Use slip-resistant floor treatments.
Keep all mats and rugs secured.
Keep spill cleanup supplies readily available.
Maintain floors when traffic is light.
Promptly investigate any slip and fall accidents.
Documenting Slip and Fall Accidents
If a slip and fall occurs, it needs to be promptly reported and thoroughly documented. This information may be required if a claim against the company is filed. Here are some things an employee should do when injured in a slip and fall accident:
Report the slip and fall accident immediately
Document the details of the incident.
Get contact information of the witnesses.
Take photographs of the slip and fall site.
Tips for Staying Safe 
Slips and falls do not just happen. Often times, they are the result of unsafe conditions and carelessness.  Here are some tips to stay safe: 
Let your supervisor know if you see something you might slip or trip on.
Clean up spills as soon as possible.
Check with your supervisor on the proper usage of cleaning products. Avoid using cleaners that could make the floor slippery.
Make sure floor mats are laying flat.
Keep walkways clear of tripping hazards, such as cords, wires, and clutter.
Fully open ladders and stepladders before use.
Avoid overloading ladders.
Make sure ladders are fully stable and on a flat surface.
Use handrails when using stairs and steps. 
Contact Us Today
Slips, trips, and falls are no minor issues. These accidents are common in many workplaces. In many cases, they cause serious injury and even death.
A Columbia premises liability lawyer from Simmons Law Firm can help you if you have been injured by a slip and fall or other dangerous property condition. Schedule a free consultation with our office today. Call (803) 779-4600 or fill out the online form.
Resource:
travelers.com/resources/business-topics/workplace-safety/preventing-slips-trips-and-falls-in-the-workplace