Slips And Falls In Grocery Stores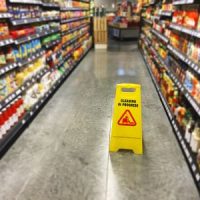 Slips and falls can happen anywhere. They can happen in your home. They can happen outside on a slippery sidewalk or on stairs. Slips and falls can also happen in restaurants and grocery stores.
Grocery stores are especially notorious for slips and falls, since there are so many foods, drinks, and other liquids in one place. Dropped fruits, water, oils, milk, juices, and household chemicals can all make a floor especially slippery.
If a customer or employee is unaware of the slippery floor, they can easily slip and fall, leading to serious injuries. In severe cases, the result could even be death. If you are injured in a slip and fall accident at a grocery store, you may be able to obtain compensation for damages based on negligence laws.
Duty of the Grocery Store
Businesses that are open to the public, such as grocery stores, have a duty to provide a safe environment for customers. If the grocery store fails to maintain reasonable safety standards, then they can be held liable for any injuries that occur. This means that an injured customer or employee can sue the store owner for failing to provide a safe environment.
If you were injured at a grocery store, it's always important to speak up. This is true even if you don't think you are seriously injured. Injuries sometimes take time to appear, so don't delay when it comes to filing a claim. Get checked out right away or else you could lose out on your rights to compensation.
Don't be ashamed to say that you slipped and fell on a dropped fruit. Collect evidence, file a claim with the store, and see a lawyer. Document everything that happened. Take photos of the accident scene. Get statements or phone numbers from witnesses who can assist with proving your claim. Your lawyer can help you understand your legal rights.
Also, keep in mind that liability for slip and fall accidents extends to outside of the store. Even if the slip and fall happens in a parking lot or other area outside of the store, the grocery store can still be held liable. Even if you have not purchased anything from the store, you are still covered under premises liability laws. You still have the right to sue for damages, so don't give up this right. Medical expenses can add up, so get the financial help you are entitled to receive.
Contact Us Today
Slips and falls are no minor events. They are serious situations that can lead to head trauma, broken bones, neck and back injuries, and more.
If  your slip and fall was caused by the property owner's negligence, seek legal help from the Columbia premises liability lawyers from Simmons Law Firm. We can work to negotiate a settlement or take the case to court. Schedule a free consultation by filling out the online form or calling our office at (803) 779-4600.
Resource:
goodmenproject.com/everyday-life-2/grocery-store-slip-and-fall-accident-who-is-liable/